In the globalization of economic development, the development of economic exchanges between countries and regions must rely on shipping, shipping and other means of transportation to complete economic relations. In the long history of historical development, cities close to the coast and cities with large ports have relatively developed economic development. Large ports do not need large-scale infrastructure construction, but rely on natural advantages such as oceans and inland rivers to carry out large-scale cargo handling, so as to promote economic development.
China is located in East Asia and is a major shipping and industrial country. It is the second largest country by land area and its eastern front is surrounded by water. Now let us talk more about major ports in china.
What are the biggest ports in china?
Port of Shanghai
Shanghai Province
Container traffic in 2022: 47 million TEU
Cargo tonnage in 2020: 702 million tons
Shanghai Port can handle the DG cargo   
The Port of Shanghai is the largest and one of the busiest ports in China, making it to the China main port list in terms of annual throughput. Sitting at the junction of the "golden watercourse" and the "golden coast", the port of Shanghai connects well the rim of the Bohai Sea in the north, the Yangtze River Delta in the west, Pearl River Delta in the south, and meets Bushan and Inchon of South Korea in the east.
Overall, Shanghai supplies a vast hinterland,supporting 35 million TEU (a unit of capacity often used for ports and ships).Spans an area of over 3,500 sq kilometer. Every month, over 2000 ships arrive in the harbor. The port of Shanghai also includes three main work zones – Yangshan Deep Water Zone, Huangpu River, and Yangtze River.  It is naturally protected due to its location and is also in close proximity to the industrial and manufacturing zones of China. These factors have contributed to the rapid growth of Shanghai Harbor.
Our company is also very good at transporting electronic cigarettes, dangerous goods and sensitive goods from Shanghai, and has strong customs clearance capabilities.
Port of Shenzhen 
Guangdong Province
Container traffic in 2021: 28.77 million TEU
Cargo tonnage in 2018: 251 million tons
Shenzhen Port can handle the DG cargo
It's the second most important port in China and the third in the world.It is located in the southern part of the Pearl River, in Guangdong province,the Port of Shenzhen connects China's southern hinterland to pretty much the rest of the world.The port of Shenzhen is also one of the busiest and fastest growing ports in the world.It is one of the most important ports for Chinese international trade.
It works as a feeder port, serves over 50 global shipping lines, has over 130 international routes, and services nearly 10,000 vessels annually. Known as the gateway to the Pearl River Delta and Hong Kong, the port managed 23.98 million TEU in 2016. The Spanish port of Santa Crus de Tenerife is its sister port.
The port is classified into various zones that process different types of goods and cargo. Da Chan Bay, Dongjiaotou, Neihe, Shayuchong, Yantian, Shekou etc. are the main zones that have over 140 berths. Of these, there are 51 berths dedicated for large vessels of 10,000 DWT or more. The remaining are split between 43 berths for 10,000 DWT vessels, 9 consignee berths, 18 container berths, 23 non-production berths, and 18 passenger ferry berths. The port is also divided by the Kowloon Peninsula into the Eastern and Western zones.
Port of Ningbo-Zhoushan
Zhejiang Province
Container traffic in 2021: 26 million TEU
Cargo tonnage in 2018: 1000 million tons
Ningbo Zhoushan Port is one of the largest ports in China,it is also the busiest port by tonnage.Located at the crossroads of the Silk Road Economic Belt and the 21st Century Maritime Silk Road.Ningbo Port and Zhoushan Port merged in 2006 and are located in Zhejiang Province, China
As a core component of the Belt and Road Initiative,It is already providing regular intermodal rail services to the hinterland. But it has recently launched a new service, and its sea-rail intermodal line currently provides 11 train services, reaching 36 cities in China and extending to countries in Central and North Asia and even further afield in Eastern Europe.
The port is connected to 90 countries and 560 ports. It is a multifunctional port with nearly 200 berths, nearly 40 of which can handle vessels over 10,000 DWT. There is a dedicated terminal for crude oil handling supertankers over 250,000 tons and OBO (ore bulk carrier) vessels over 200,000 tons. There is a terminal for liquid chemicals capable of handling 50,000 tons and a dedicated terminal for 6th generation container ships.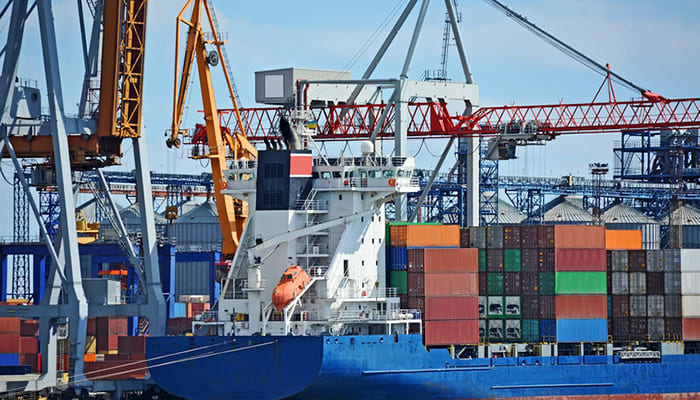 Port of Guangzhou
Guangdong Province
Container traffic in 2017: 20.37 million TEU
Cargo tonnage in 2020: 636 million tons
One of the busiest ports in mainland China, Guangzhou is a seaport on the Pearl River Delta.Once a trading port, it served as one of China's busiest ports during the Ming and Qing dynasties. It is one of many major Asian ports to have struck agreements with the Port of Rotterdam on deepening ties between Europe and the Far East. It has sea connections to over 300 ports in more than 80 countries all over the world.
The port is endowed with over 4,500 berths and 2400 anchorage points. The port is close to the base for the Nansha Wetland Park. There are large storage spaces, bonded warehouses, customs checkpoints, and logistics centre. Work is currently underway to expand the port's capacity to handle vessels over 100,000 deadweight tons through dredging activities.
In 2018 it was named one of the fastest-growing ports in the world by Alphaliner, confirming its status as one of China's economic engines.
Port of Qingdao
Shandong Province
Container traffic in 2019: 21.01 million TEU
Cargo tonnage in 2020: 515 million tons
The Qingdao port is well-known as an international transshipment and reefer specialty port. It's located in the Yellow River basin in eastern China's Shandong Province.The city is also famous and develops thanks to the trade and fishing port.
It is only topped by 2 other Asian ports- Busan and Singapore. Qingdao services a large portion of vessels from Eastern China and is mainly directed at nations in the Pacific region such as Japan, South Korea, the Americas and Russia. It carries out trade across 130 countries and over 450 ports. It also owns stakes in the Italian Vado Gateway Terminal.
Made up of Da (big) Port, Zhong (middle) Port and Huangdao (yellow island) Port, the port of Qingdao is famous for its narrow entrance and wide harbor. As a port just second to the ports of Shanghai and Shenzhen in container traffic, the port of Qingdao possesses China's biggest container terminal, crude oil terminal, iron ore terminal and world-class coal terminal and bulk grain terminal.
Port of Hong Kong
Hong Kong
Container traffic in 2018: 19.6 million
Cargo tonnage in 2018: 258.5 million tons
Hong Kong is a major deep-water seaport that is located in the Victoria Harbor of South China. It is one of the world's largest and busiest ports.The region is famous for being a financial and commercial hub. For this reason, Hong Kong has expanded from a small fishing village to one of the top ports in the world
It receives nearly 0.5 million vessels a year, over 250 million tons of cargo, and above 25 million passengers annually. It has one of the lowest turn-around times in the region, with an average 10 hours for container vessels and 47 hours for tankers anchored off-site. The main container terminals are at Kwai Chung, Tuen Mun, Stonecutters Island, and Tsing Yi.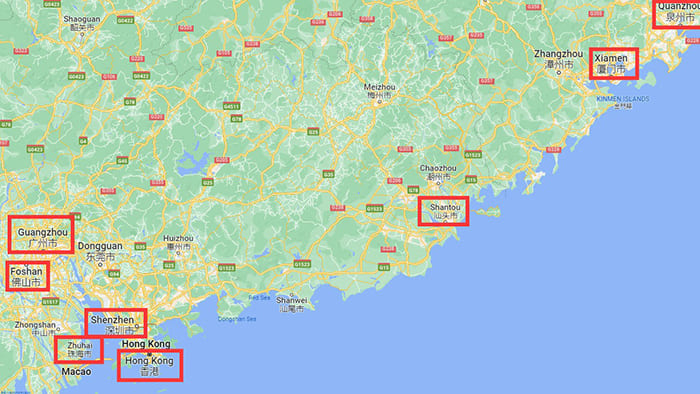 Port of Xiamen
Fujian Province
Container traffic in 2021: 12.0457 million
Cargo tonnage in 2021: 227.5 million tons
Xiamen Port has a total of 9 port areas of Xiamen Dongdu, Haicang, Xiang'an and Zhangzhou Zhaoyin, Houshi, Shima, Gulei, Dongshan and Zhao'an, and has opened a total of 157 container liner routes, including 99 international routes. There are 12 internal branch lines and 46 domestic trade lines. In 2021, Xiamen Port will complete a cargo throughput of 227.5 million tons and a container throughput of 12.0457 million TEUs.
Port of shantou
Shantou port is one of the main ports in China's five coastal port groups, with 38 berths above 5,000 tons, including 16 berths above 10,000 tons. The comprehensive shipping capacity is 26.21 million tons, and the container handling capacity is 580,000 teU. In recent years, Shantou has vigorously developed port logistics and shipping industry.
At present, it has freight exchanges with 268 ports of 57 countries and regions in the world, and has regular container freight liners with Hong Kong, Thailand, Japan and other places. In 2006, the cargo throughput of Shantou Port exceeded 20 million tons for the first time, reaching 20.125 million tons, up 15.9%. In early 2009, Shantou Port and Taiwan Kaohsiung port successfully realized the history of direct sea transportation between mainland China and Taiwan.
Port of Zhuhai
Guangdong Province
Container traffic in 2000: 12.39million TEU
Cargo tonnage in 2014: 451 million tons
Zhuhai Port consists of five seaport areas, namely Jiuzhou, Xiangzhou, Tangjia, Guishan and Gaolan, and four inland river port areas including Qianshan, Wanchai, Jingan and Doumen Port; Zhuhai Port has 109 berths, including 10,000 tons of berths. There are 8 berths above grade level, with a total berth length of 6,937 meters and a maximum berthing capacity of 80,000 tons; a total warehouse area of 32,764 square meters and a total yard area of 490,490 square meters; 219 hoisting and unloading machines with a maximum lifting capacity of 50 tons. In 2000, Zhuhai Port completed a cargo throughput of 12.39 million tons and a container throughput of 314,000 TEU.
Port of Zhanjiang
Guangdong Province
Container traffic in 2018: 1.00million TEU
Cargo tonnage in 2018: 149.28 million tons
As the main channel to the sea in southwest China, Zhanjiang Port has successfully achieved the goal of a port of 100 million tons. As of December 24, 2008, Zhanjiang Port has completed a cargo throughput of 102.15 million tons, becoming the 15th million tons port in China and the only one in the southwest coastal port group. At present, the state and Guangdong province have included Zhanjiang port in the national and provincial major development planning projects, and the Ministry of Communications has positioned Zhanjiang port as the main port in the southwest coastal port group in the National Coastal Port Layout Planning.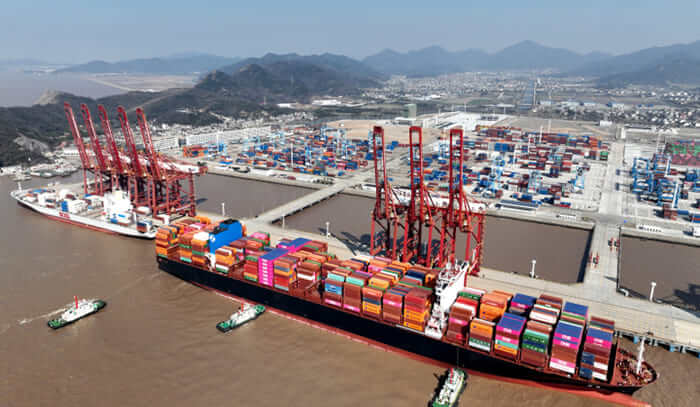 Port of Tinajin
Tianjin
Container traffic in 2021: 10.02 million TEU
Cargo tonnage in 2018: 446.04 million tons
Tianjin Port can handle the DG cargo
Tianjin Port is located at the western end of the Bohai Bay, and is an important waterway transportation hub in the northwest of North China and the Beijing-Tianjin region. There are more than 140 berths of various types, including 76 public berths, the total length of the coastline is 14.5 kilometers, and 55 berths above the 10,000-ton level. In 2003, Tianjin Port's cargo throughput reached 162 million tons, achieving a historic breakthrough of a net increase of 30 million tons a year, and the throughput ranked first in northern China. Tianjin Port is the earliest port in mainland China to carry out international container transportation business. In September 1973, Tianjin Port successfully opened my country's first international container route. In 1980, Tianjin Port built China's first container terminal.
Port of Dalian
Dalian Province
Container traffic in 2015: 16.00 million TEU
Cargo tonnage in 2017: 451 million tons
Dalian Port is located in the center of the Northwest Pacific Ocean and is the most convenient port for transshipment of goods from the Far East, South Asia, North America and Europe. The port has a free water area of 346 square kilometers and a land area of more than 10 square kilometers. It has more than 80 modern professional berths for containers, crude oil, refined oil, grain, coal, bulk minerals, chemical products, passenger and cargo ro-ro, among which berths above 10,000 tons 40+. Sea transportation has opened up 8 international container routes to Hong Kong, Japan, Southeast Asia, Europe and so on.
ASL can help you deal with sea service from china Port
Before choosing the right port, it's worth getting acquainted with the costs and delivery time. Depending also on the location, the parcel may go shorter or longer.As a trusted third-party logistics service, ASL offers cost-effective shipping options for sellers that seek to focus on growing their business with streamlined supply chain management. Some of our global partners are Kuehne + Nagel, DSV A/S, DB Schenker, Savino Del Bene and so on. Get a custom price Let Us Arrange Your Shipping from ASL today to determine if we can shipping from north or south china port .