If you are an importer or exporter, you might have come across the acronym LCL while looking to ship goods in small quantities. LCL stands for "less than container load". It is different from another widely used term in international logistics – FCL, which is short for "full container load" and is meant for large shipments.
As you might already know, LCL is recommended as a safe way to ship cargo in moderate volumes while keeping costs low. While this is mostly true, it is important to understand the LCL shipping process in its entirety. It will touch on the following elements:
LCL stands for less than a container load and describes sea shipping for cargo loads not large enough to fill a full 20ft or 40ft shipping container. Since LCL shipments fill less than a full 20ft or 40ft shipping container, these are consolidated with other cargo.
Its benefits and drawbacks
LCL stands for less than a container load and describes sea shipping for cargo loads not large enough to fill a full 20ft or 40ft shipping container. Since LCL shipments fill less than a full 20ft or 40ft shipping container, these are consolidated with other cargo.
Shipping smaller volumes frequently can help you save on inventory space. Thus, LCL is the preferred shipping mode for small businesses.During peak season, LCL is more readily available get space than FCL.
LCL might not be cheap for large volumes of cargo because it charges a higher cost per cubic meter (CBM) than FCL, usually two to three time more. Why? Because there is a lot of work involved in LCL shipping – the freight forwarder makes multiple LCL bookings, then books an FCL container and fills it with the LCL shipments (a process called consolidation).
Sometimes, LCL shipments stop at multiple ports, go through several rounds of loading and unloading. In such cases, transit time could be longer and even result in delays. Frequent handling of merchandise increases their chances of being damaged or lost.
How do you calculate LCL charges?
Calculation of basic Ocean Freight under LCL cargo is on the basis of per CBM (Cubic Meter) rate or per Ton (per 1000 kg's gross weight) whichever is higher. Or it can be also stated as, basic ocean freight under LCL shipment is calculated on the basis of chargeable volume of cargo.
The ocean freight charge for LCL is often labeled "W/M" which stands for weight or measurement. As described above, this indicates either the shipment weight or volume in CBM. For example, if the rate is $60 W/M and the shipment is 5 CBMs, the total ocean freight rate will be $300.
LCL Shipment Procedure-7 Steps to Ship Your Cargo
Also known as "consolidation", LCL shipping essentially means combine various shipments together in one container. Since this involves sharing a container, it is a little more logistically complicated and requires more and better coordination to ensure that everything goes smoothly and as planned.
When you decide to ship LCL, you will need to provide the dimensions and weight of your cargo to your freight forwarder. Documents and forms such as the Bill of Lading, commercial invoice, and cargo packing list must also filled in and submitted. Depending on your cargo type and destination port, additional documentation may also be required.
B. Getting your production ready
LCL shipments are usually shipped on a fixed schedule, either weekly or fortnightly depending on the destination port, so timing is crucial. Grouping of LCL cargo takes place at a warehouse, called the origin consolidation warehouse.
Your freight forwarder can arrange your cargo to be picked up, which is the more common practice. Alternatively, you can also delivery your cargo to the consolidator warehouse yourself. Keep in mind, however, that should you choose to do the latter, that your cargo needs to arrive well-prepared, packaged, and ready to be loaded. If preparing your cargo by yourself, make sure to give our guide on how to calculate the volume of an LCL shipment with Tetris a read.
Whichever option you opt for, note that your cargo must arrive at the warehouse with time to spare. If the warehouse is located at/near the departure port, the cut-off date for your cargo to reach the consolidation warehouse is typically seven days before sail date. This varies depending on the location of the warehouse. With inland warehouses, given that more time is required to get the container to the port, the cut-off date will be earlier.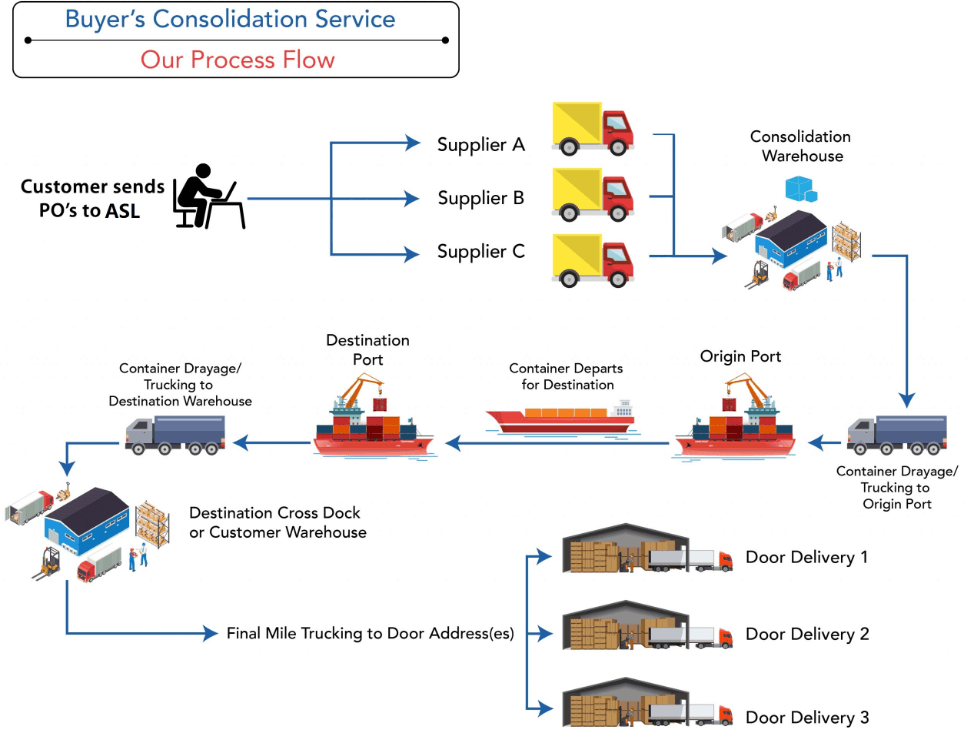 This is to allow for sufficient time to properly consolidate all the LCL cargo in the container. Do give our article on how to properly prepare an LCL shipment to guide you.
Once the LCL container is packed and prepared, it is then transported to the departure port as stated on the contract/booking. Port cut-off dates for containers are usually around three days prior to sail date. Once the consolidated cargo arrives at port, it is transferred into the hands of the shipping line and then shipped to the destination port.
If you're shipping to a secondary port, your LCL cargo may be offloaded at a transshipment point, where it will either get transported to another container or wait for more cargo to fill the container before continuing to its final destination.
In layman terms, it's similar to what happens to your luggage when you're transiting at an airport. It will need to be offloaded from the plane in which you landed and transferred to your next flight.
E. Arrival at destination
Once the LCL container arrives at destination port, the freight forwarder's destination agent takes over. He/she will collect the container and transport it to a warehouse called the destination deconsolidation warehouse. There, the cargo in the container is deconsolidated into individual LCL shipments.
F. Receiving your merchandise
At this point, the consignee can go to the warehouse to pick up the merchandise. Alternatively, you can have the agent handle delivery to the receiver, in which case your merchandise will be transferred from the destination deconsolidation warehouse to the final destination warehouse from which it will be delivered to you.
How to pack an LCL shipment
Improper packaging is said to be the single biggest cause of damage to LCL shipments. Here's what you can do to secure your cargo:
A. Pack your cargo in boxes designed for exporting goods, not in any old bag or box. When the boxes are stacked in a container, it is called loose LCL. For greater security and easier handling, place the cargo on pallets, secure with straps and wraps, and load the pallets in the container.
This is called palletised LCL. A pallet is a flat structure, usually made of wood and sometimes of steel and plastic. They come in standard sizes, the most common being 48 inches x 40 inches.
B.  Label each piece of cargo with details including booking number, destination country, shipper (exporter) and consignee (importer) names. Number each piece of cargo. Include a fragile tag if needed. All labels must be correct and visible.
C.  Make sure your cargo pieces are uniformly and evenly packed.
D.  If your cargo is fragile (flat-screen TVs) and should not be stacked, mention this up-front to your freight forwarder
What are difference between FCL and LCL?
If you're planning to ship containerized goods by sea, you'll need to choose between less-than-container-load (LCL) and full-container-load (FCL) shipping modes. But are you aware of how they differ from one another and their pros and cons? Please find below picture for more details: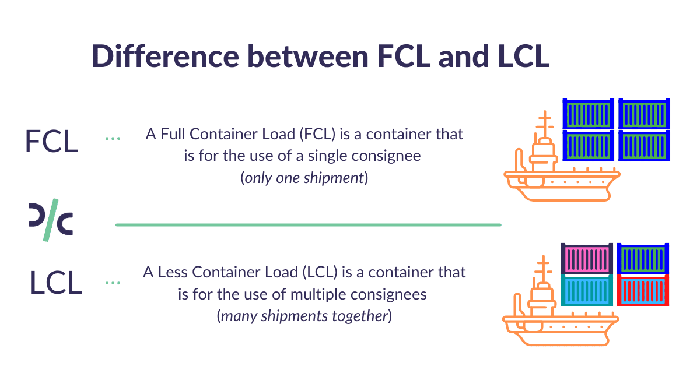 Why choose Airsupply to arrange your LCL shipment?
Airsupply International Logistics Group Limited is the best freight forwader in china,General Manager Mr.Roger with 10+ years in air freight field. Management has equal 7+ years experience with air&sea freight. Operation team with 5+ years experience. We are an energetic and hard-working team, only to provide the best option and implementation strategy to our customer.