Since the outbreak of the epidemic in 2019, the economies of various countries have declined sharply, and whether the goods can be circulated determines whether the economy can be circulated or not. Because the world uses business as a medium to ignite economic prosperity, and now the shipping is delayed, what is causing port congestion?
We have compiled a list of the most common reasons for delays. We also share how and what type of technology can help shipping companies deliver positive customer experiences.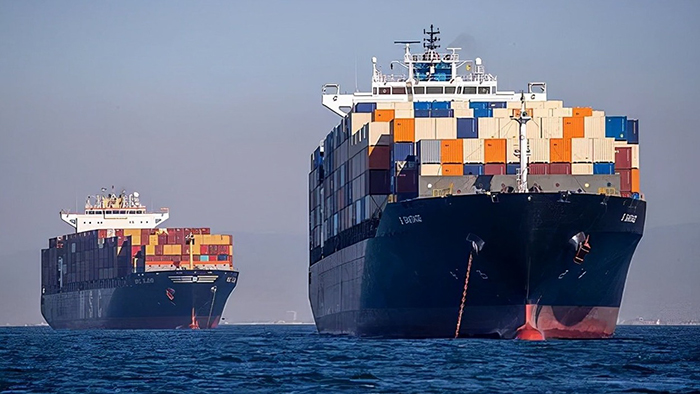 What are the current global shipping issues?
● Container shipping delays in 2022
In recent years, the problem of poor logistics has become more and more prominent. On the one hand, the logistics obstruction has led to the rising cost of goods transportation, and on the other hand, the order volume is also decreasing.
Important trading hubs in China, the U.S., and Europe struggle to properly manage hundreds of ships coming in daily.
Shipping a container through major U.S. ports now takes triple the time it normally does. In September, about one-third of containers at the L.A. and Long Beach ports sat longer than five days before being shipped out, according to Goldman Sachs. Offloaded containers dropped by 9.1% at Long Beach and 3.6% in Los Angeles.
President Joe Biden tried to fix the problem by ordering ports to stay open 24 hours, but it has only helped at the margins. Ongoing labor shortages and a lack of coordination among the multiple players in the U.S. supply chain blunted the effect of the move.
"The upshot is that the outlook offers no immediate fixes for the underlying supply-demand imbalance at US ports," Walker wrote.
Though he sees some easing ahead, he added that "congestion will likely persist to some extent through at least the middle of next year, and our analysts expect that freight rates will likely remain meaningfully above pre-pandemic levels for at least the next year."
● Freight Cost Increases
Climbing oil prices translate directly to higher diesel prices. U.S. diesel prices are up significantly from last year and are likely to go higher as sanctions are mounted against Russia, the third-largest oil producer in the world.
These costs could be passed down to shippers, making international shipping even more expensive.
The conflict is impacting ground transport in Europe, with trucking logjams reported throughout the region. In the US, warehouse space remains scarce, and renewed rail backlogs are becoming a growing problem.
Plus, looming labor disputes may further disrupt ground transport. All of this can cause fluctuations in transit time for imported and exported goods.
Stay up-to-date on what's happening in the industry with our weekly freight market updates. ASL's freight forwarders will update the latest price changes in time to get the best service at the best price.
What causes global shipping delays?
Every merchant knows that successful online selling requires timely order fulfillment. Unfortunately, shipping in 2022 has been severely affected by massive delays. These problems are due to several factors, including increasing trade tensions between the U.S. and China and the dwindling qualified workforce to operate the ships.
Global supply chains have had a rough time since 2020. Its reliance on maritime transport is so great that 90% of the world's goods get transported in containers and ships. 
● Labor shortage
The COVID-19 pandemic was a significant catalyst in cargo ship delays. For health and safety reasons, much of the world slowed to a crawl as people sought safety in their homes as part of lockdowns. As the doctors and health experts studied the virus, the production and manufacturing of items stopped due to the closure of factories.
For us, we feel the pandemic has had a lot to do with causing the delays. With many postal workers and couriers going sick or fearing attending work, alongside higher than usual online ordering due to physical store closures, packages have taken longer than usual.
● Holidays
Retailers often experience spikes in orders during holiday periods. This causes an increase in shipment volumes that can overwhelm couriers, especially if they don't have an efficient delivery network system. This can cause shipping delays at a time when shoppers most want to have their items arrive on time.
● Extreme weather
Nearly 12% of total estimated truck delays are due to weather. From freezing conditions on the road to gale-force winds at sea, bad weather can create chaos at all stages of domestic and international shipping.
● Supply chain issues
39% of brands say shipping and manufacturing delays and shipping costs will continue to be a top supply-chain-related challenge over the next 12 months.
A global pandemic, war conflict, and port delays have caused worldwide supply chain problems. As a McKinsey article says, "Clogged ports, expensive cargo capacity, and emergency shipments became prevalent during the COVID-19 pandemic. Since then, the conflict in Ukraine has also contributed to product-line closures, transport delays, and spiraling input costs."
● Inaccurate shipping information
When customers give a misspelled or incorrect address, or when the retailer doesn't document the customer's order properly, the courier company may not have enough information to correctly deliver the package. This can cause shipping delays, increased last-mile delivery costs, or worse, the package never arrives.
What should we do when global shipping delays?
From the current point of view, the delay in transportation is an inevitable phenomenon, and the decline of the global economy is also inevitable. But there are a few things we can do to reduce our losses, and I've listed some of them:
● Communicate with your customers
The first thing you should do to deal with delays is to contact your customers and explain the reasons why they're not receiving their orders on time. While emails or a dedicated response channel like Facebook Messenger are good options, making direct calls to your customers is better.
● Partner with China suppliers
Working with suppliers who have warehouses in your target countries can help reduce delayed deliveries because they can fulfill your orders from the closest warehouses. This will help you avoid delivery delays and reduce the shipping times for your products. Easy ship works with warehouses across the globe, so we can help you make sure your goods are in the right place to reach customers.
●  Provide offers and discounts
Offering coupon codes or inexpensive gifts to your customers can help neutralize their frustrations. While this will cost you a little money, it's much cheaper than having your customers slap you with bad reviews that can turn away hundreds of potential customers.
At last, our company can better deal with global delivery delays and reduce losses during transportation. If necessary, please contact us in time. We will reply you within 24 hours.